Posted by: sara | October 29th, 2020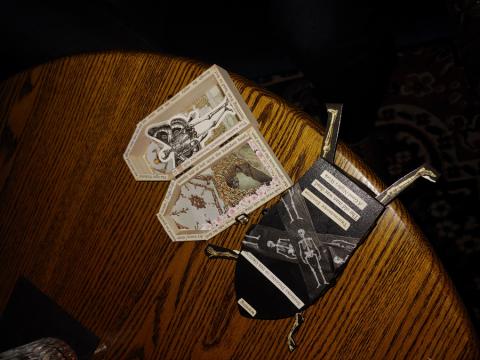 On Tuesday evening, October 6th a group of almost 20 people gathered at Fitzgerald & Faulkner in downtown Graham.  In conjunction with Nate, Fitzgerald & Faulkner's award-winning bartender, I hosted a "Coffin Crafts and Cocktails" event.  Here, participants were able to choose from a plain or painted mini-coffin and a vast array of ephemera for decoration.  The price of the ticket included heavy hors d' oeuvres and two cocktails...themed to DEATH!  Nate also provided the backstories for his two libations, "Death in the Afternoon" and "Corpse Reviver!!" 
The participants' creativity was nothing short of amazing!  One young woman was celebrating her 21st birthday!  How great that she was enjoying her first "legal" cocktail at an event such as this!
Why WOULD one decide to attend an event like this?  Getting more comfortable with death is so difficult for most people.  When I asked about the reason they decided to come to the event, they all agreed that even working on little mini-coffins can help you come to the realization that death is simply an inevitable part of life.  And at this time of year, when we say the veil is thin between our world and the other side, it helps to remember our own mortality.