Posted by: sara | April 24th, 2015
I am grateful to Elizabeth for giving me permission to share this story.  It is a powerful teaching gift as we remember how important home funerals and their healing rituals are—for both the living and the dead.  All names have been changed by request.
It seems that for the past two years, I have repeatedly told all my friends within the home funeral movement, "I'm just waiting for somebody to die!"  This was because I had done the requisite training for after-death care, including a year's worth of online coursework, as well as workshops at several national conferences and within my local Crossings Care group.  I was primed and ready to take care of someone's dearly departed. 
I cannot recall the exact moment I learned about the National Home Funeral Alliance (NHFA), but in 2013 when they had their national conference in Raleigh (35 miles from home!!) I was so ready to be there.  I immersed myself in all things NHFA.  It paid off.   Within a year, I was asked to be on their Board of Directors.  Everything they stand for resonates deeply within me….everything they do is the way we used to do things….everything old is new again.
Penny was a gentle spirit who I had met many years ago when our daughters Heba and Elizabeth were in middle school together.  She was a public health nurse and her caring and loving nature was coupled with a free and easy style which made young girls like my daughter idolize her.  It was no secret that when some girls ran away from home, they wanted to take shelter with Penny.
Sadly, eighteen years later—when our daughters were now mothers in their early 30's—her third recurrence of breast cancer had finally gotten the best of her.  She came back to her childhood home to spend her last days.  This would be the easy choice for her only daughter, Elizabeth, who lived close by, and for her older sister, Judy, who still lived in the home.
On the afternoon of February 24, my daughter Heba was trying desperately to reach me to ask for my advice.  Elizabeth was in Raleigh with her dying mother Penny whose final wish was to be buried in a pine box in the Shenandoah Valley of Virginia.  Heba wanted to know if I could help Elizabeth with all the questions she had about cemeteries and coffins.  Elizabeth was an amazing woman who did her research and her homework—and it would pay off later.  During her research, she found that my name, Sara Williams, kept popping up.  When she called me, she recognized my voice from long ago and hung up, in disbelief and shock, immediately phoned Heba, and asked her, "Is that YOUR MOTHER who is doing home funerals?" 
After Heba confirmed that it was indeed her mother who was "the green reaper," Elizabeth and I talked at length about what would be involved.  I helped her believe she could absolutely do this herself and that although I was trained to do this as a Home Funeral Guide, I had never done one myself.  Her reply was, "Well, it looks like you're going to be doing your first home funeral soon." 
At last, I thought to myself.  Here is the dead person I will be able to love and care for, and share this love and care with her daughter and the rest of her family.   Thank you, Penny, for coming back into my life after all these years, to help me learn from you.
You know, mothers would be lying if they said they didn't have favorites among their children's friends. Elizabeth was always impressive. Elizabeth sparkled, both in her physical attributes, and her athletic prowess, but also as a brilliant young woman who was a good student, polite, and whose aura was golden.
I coached her through the necessary and required paperwork.  She had already ordered the pine coffin from an artisan who is also my friend, Don Byrne of Piedmont Pine Coffins.  She had located the perfect green cemetery in Penn Laird, VA—Duck Run.   This young woman was on it!  Plus, when she told Heba how helpful I had been, my daughter said, "Mom, I will never make fun of you again for your 'dead' work."  That was no small accomplishment, believe me.  My daughter, like so many people who don't understand yet, had basically eschewed all this home funeral business.  Now, suddenly, I seemed legitimate!  (Thank you again, Penny!)
I had been trained.  I was ready, willing and able.  And I knew it would be so much better if I had support.  So I contacted my friend and experienced home funeral guide, Jenny Bingham, to ask her to please work in tandem with me during this first home funeral.  She agreed to do so with love and happiness that I would finally get to have this experience.   I was delighted to work with Jenny.  She had really been my mentor this past year, and we had been meeting regularly for lunch and discussing our work within the home funeral and green burial movements.  She was so "Zen" in contrast to my hyper, type-A personality.  I loved being in her presence.  (Thank you, Jenny!)
Elizabeth called late Friday night, February 27, to let me know her mother had died.  I had told Elizabeth earlier in the day that Jenny and I were willing to come over that night if she died before 9:00 PM.  Due to really icy roads and cold, however, we were trying to avoid that.  Elizabeth called right before 11:00 PM and I assured her that her mom would be fine until the morning if she cracked the window.  She asked me what to do with one eye that would not shut, and her mouth which would not close.  I suggested she put something on her eyelid for some weight—she had a sleeping mask which I said should be perfect—and told her how to tie a scarf around her mother's head after first placing a small rolled towel under her chin.
I picked up Jenny the next morning at 8:00 AM—she had her kit with her.  In it were things I didn't have, like washcloths, towels, gauze, sheets.  (I did manage to pack some of my essential oils like lavender and eucalyptus, and one lesson learned is that creating my own home funeral kit is now a priority).  Being able to grab my kit and go will give me time to think about other more important things, show I am prepared, and lend even more credibility to my work as a home funeral guide.
Jenny and I stopped on the way at Harris-Teeter grocery store to buy dry ice.  The checkout clerk rang up 26 CENTS, but I was quick to point out that it should be more like 26 DOLLARS!  I was right once the supervisor rechecked the receipt!  It is so good to be able to laugh during all this!
Then on to Raleigh to meet with Elizabeth, her dead mother, and whomever else might be there.  Jenny asked how I was feeling. I thought about walking together up to a house I had never seen before, into a brand new situation.  My friend and experienced home funeral guide asked me if I was nervous, and then talked to me about what to expect when we saw a dead body—the dead body of a woman I had known years before.  I was a bit nervous, true, but I had such a strong feeling that everything I needed in that moment would manifest itself, and that with Jenny by my side, all would be well.
Elizabeth came out to meet us, sweet as ever—a young woman so full of wisdom for her years.  She escorted me and Jenny in after an apology to please overlook the cluttered house.  Penny was in her childhood home where her sister, Judy, now lived.  Her hospital bed, provided by hospice, stood in the center of the dining room where she had been able to watch the sunrise, the roses out the window, and the winter birds flitting past.
Oh, to see Penny, tiny and pale in the high hospital bed, the morning sun on her face. After all these years to see her from her vibrant state to this final one of repose.  I remembered her sweet smile, how she loved to dance, and her work with our school's PTA.  I always thought how nice it must be to be so tall and carry yourself so well!  (And that's from a tall woman!)
Elizabeth told us that when her mom died, "It was the worst relief I ever felt."  She explained how long it had taken hospice to get her pain under control, and how her mother finally took her last breath.
Penny's daughter was proud to show me the pine coffin that she had ordered from Don and it was beautiful!!  The three of us took some time to practice getting it through the doorway…this is really important.  (We would later learn and see firsthand that Penny, who was really tall, looked a bit cramped when we first placed her in the coffin.  But we realized with a little gentle maneuvering we could adjust her to where she looked totally comfortable). 
We wondered where Judy, Penny's sister, was.  "In her bedroom, a bit spooked I think," Elizabeth told us.  Judy had not come out since Jenny and I arrived.  When Nancy, a cousin, arrived to be with Judy, she too absconded to the back bedroom after looking hastily at Penny, dead on her hospital bed. 
This is the last thing home funeral guides want to happen.  We are here to educate the family and put them at ease with their dearly departed.  Soon after, Olivia, a hospice nursing assistant arrived.  She seemed a little addled at our presence, and soon told Jenny, "You'll need to hurry with your preparations before rigor mortis sets in."  Jenny told her, "We don't rush anything in this work."  
Elizabeth told Olivia that Jenny and I really wanted Judy and Nancy present to help with bathing and anointing and dressing Penny.  Olivia simply said, "You need to COMMUNICATE!  Did you invite them?"  Another lesson learned!  Be sure you communicate to all present and make them believe that they are critically important within this home funeral work!  She went in to them herself before she left to return to work, and within 15 minutes, Judy and Nancy appeared!  (Thank you, Olivia!)
We were so happy to see them, and immediately began speaking about how they could help us do all the washing and anointing.  This was the strongest and most positive vibe we had that day…here was a group of women doing what they have always done, through all of time, caring for their dead.  They could have remained in their room, but they didn't.  You NEED five or six people to do this work so it was a very happy moment to witness Judy and Nancy, in concert with me, Jenny and Elizabeth, as an integral part of this holy endeavor.
Before we began, to focus us and get us present in this sacred moment in time, I read a poem while we were gathered at Penny's bedside.  As we stood around the hospital bed in the dining room of Penny's childhood home, I read it aloud.
Deep wet moss and cool blue shadows
Beneath a bending fir,
And the purple solitude of mountains,
When only the dark owls stir—
Oh, there will come a day, a twilight,
When I shall sink to rest
In deep wet moss and cool blue shadows
Upon a mountain's breast,
And yield a body torn with passions,
And bruised with earthly scars,
To the cool oblivion of evening,
Of solitude and stars.

  -- "Deep Wet Moss" by Lew Sarett
So now to work…and work they did.  I will never forget older sister Judy eagerly volunteering to find us bowls to hold the hot water, extra towels and cloths, and her own VERY SPECIAL oil which evoked the scent of pine forests which she and Penny had always loved so much!  She was so proud to share this oil, and to use it generously as Jenny and I coached her in gently washing Penny.  Judy took her time combing and brushing her sister's hair—lovingly speaking to her about memories they had shared growing up with each stroke of the brush.
Now came the time to dress Penny.  Often at home funerals, clothes will need to be cut up the back in order to more easily get them on the body.  Knowing how proud Elizabeth was of her recent  purchase of a J. Jill linen suit for her mother, and even though we were having a little bit of difficulty getting her arms through the linen tank top, I declared straight up:  "THIS IS J. JILL AND WE ARE NOT CUTTING IT!!"  Everyone had a good chuckle, and we proceeded to get the top on as well as the jacket and pants! 
We prepared the pine coffin with the lovely scented shavings Don had provided (I remember Elizabeth picking some up in her hands, sniffing them, and then putting them under my nose and saying, "Isn't the scent divine?"), laying in an old bedsheet (Italian cotton! my contribution!) and covering Penny with her favorite little comforter, a gift from one of Elizabeth's best friends.  (For the abundant gifts, we thank you!)
It's almost like magic the way you learn to roll and lay out sheets under a dead body, and how that process makes the body easy to turn and then lift.  Jenny and I taught these maneuvers to Elizabeth, Judy and Nancy, gently rolling Penny on her side and spreading out the sheet lengthwise with half of it folded in accordion pleats.  Then we gently rolled Penny onto her other side and pulled the pleated sheet out, extending it, to complete placing the sheet underneath the body. Each of us rolled up the sheet in our hands until the sheet was tight around Penny, with Jenny supporting Penny's head.  Jenny remained at her head while I was at Penny's  feet;  Elizabeth, Judy, and Nancy were lined up along the body and on the count of three  we lifted Penny down into the coffin on the floor. We knew to always keep the head higher than the rest of the body to prevent discharge of fluids.  Now it was just a matter of lifting the coffin back up on the bed where Penny would remain during her vigil until Monday morning. 
We covered the hospital bed with a white matelassé bedspread--and when we placed the coffin back up on the bed, it was really lovely.  Penny loved a lint brush and kept an extensive collection with her even during her last days!  There was a lot of laughter as we all used lint brushes to remove the cat hair from the bedspread!
I decided then and there my gift to Elizabeth for her gift to me of this experience would be a beautiful print called "Our Journey" by artist Gaia Orion. 
She has painted the stages of our life, from infancy to old age, and finally going back to the earth.  Gaia states, "Just like winter is telling us to rest and look inward every year. When one lives in tune with nature life is a cycle following the seasons.  Where does it really start? When does it end? When the caterpillar 'dies,' it has no idea that it is initiating the birth of a beautiful butterfly."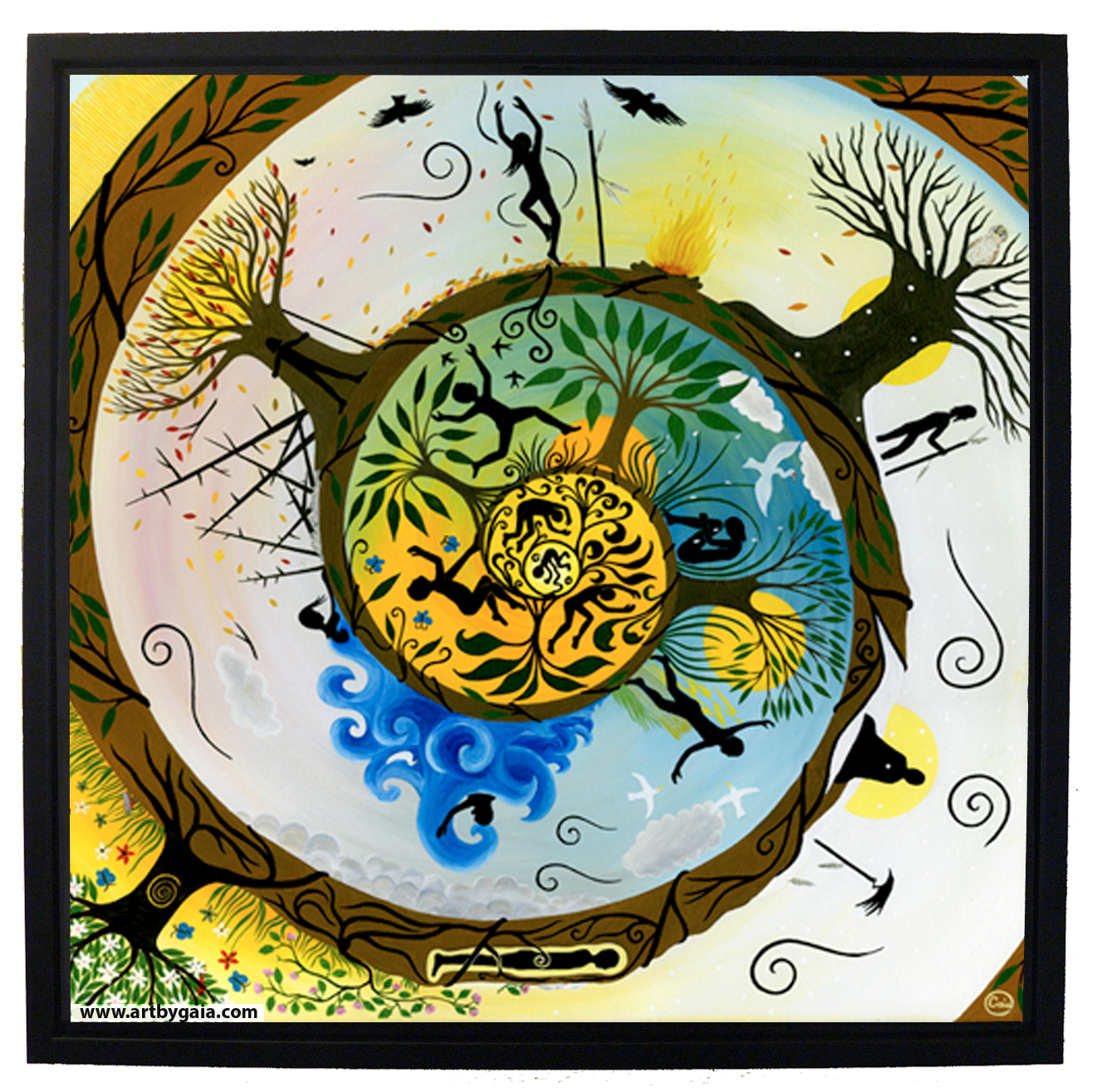 I hope this will become my signature gift to everyone for whom I have the great gift of working together during a home funeral.  Being able to do this, to be there and serve as a guide for this family, was all that I had hoped it would be.  One of the benefits of caring for these loved ones after death is experiencing both the finality of death and the continuity of life. Fear of death is usually fear of the unknown. When we experience something firsthand, and when we are allowed to be at home with it, then there is little that we shy away from. By participating in the end of life of a loved one, by helping with arrangements and bringing sanctity to the days after death, there is an almost universal experience that life and death are embraced without fear.
Because we had already practiced getting the coffin through the doors, and because Elizabeth had already measured and calculated how the coffin would be placed in their car for transport to Virginia, this last remaining task was in her hands.  Now she was in charge; she had her husband and brother to help now, and Jenny's and my work was done.  I had advised Elizabeth on all the required paperwork and she had dutifully gotten all the documents as well as the doctor's signature on the Death Certificate and Notification of Death forms.   She and her husband drove Penny in her J. Jill suit in her custom pine coffin from Raleigh in the back of their Subaru to Duck Run on Monday, three days later, without a hitch.  They had their Burial Transit Permit in the car with the Death Certificate, and were ready to present them at any point in the 250 mile journey.   But they didn't need to.  Now Penny is at her "soul's rest" in the beautiful, peaceful landscape of the Shenandoah Valley.
I now felt "legitimate" and could not wait to get my "Beyond Hospice" Home Funeral Guide certificate shrunk and laminated!  I carry it in my wallet at all times like a badge of honor.   Right beside my new business cards which Heba designed and presented to me! 
At Penny's memorial service on Tuesday, four days after her death, it was so comforting to see all the family again.  The women who loved her and hid in the bedroom, sister Judy and cousin Nancy, were so grateful for their experience and thanked me profusely.  "We think it's amazing," Nancy said.   "It occurred to us that if more Americans spent more time with their dead—at least until the next morning—they would come away with a new respect for life, and possibly a larger view of the world." 
Later, in the receiving line, Elizabeth's husband Bob said to me, "Sara, you changed our family's lives."  And Penny and her family changed mine.  Bob's words will be with me always, reminding me that this work we do is important, healing, and transformative for all involved.  (Thanks to everyone!)
My first home funeral totally captured and reinforced the circle of life.  Two years ago, I could only read about and study how home funerals promote healing and closure; how they provide a comfortable place to discuss life and death; how they allow us to express our grief and loss.  Now I knew all this to be true because I had lived it!  Quite simply, home funerals return death care to the traditional and natural.