Posted by: sara | November 27th, 2015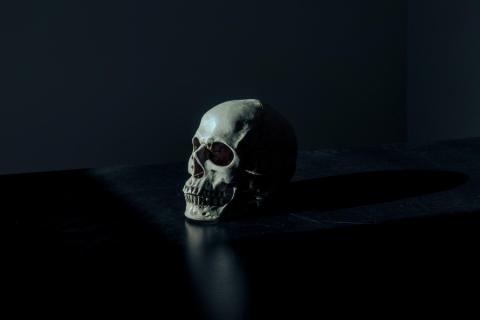 I recently read a blog post where the author opined that all the death and dying conferences she was attending were being held purposely to coincide with Halloween! Oh my, I thought. This woman actually saw me at the National Home Funeral Alliance conference in Los Gatos, California in early October...and she thinks I'm part of this "Halloween factor!" As someone who was indeed decked out daily in an array of skirts, blouses, leggings, scarves and such sporting colorful skulls, it didn't have a thing to do with Halloween! Au contraire. My favorite day of the year is November 1st when we can finally put all of this Halloween nonsense behind us! Better yet, November 1st is All Saints Day when many folk around the world pause to remember their beloved deceased and may, like me, host a Day of the Dead party for this very reason. My wearing skulls signifies that I am comfortable with death, and it never fails to engage people in a conversation about same. Oh, I love the skulls, "dem bones," our enduring sticks. And the thought of Halloween and all its concomitant stupidities never crosses my mind when I go to grab a skull-adorned piece of clothing from my closet! And I grab and wear my skull clothing twelve months a year!!!! Heck, every day is a good day to wear skeleton/death positive clothing and jewelry because when you think about it, in the traditions it is derived from (Latin, African, and others) it represents a close connection with one's Ancestors, and a sense of unity with death. 
In the art world, the skull is a memento mori, a reminder that in life we are in death. We should bone up on this fact, living as well as we can, perfecting our moral character, working our fingers to the bone for the common good. (I'm on a roll here....) 
And, I actually think what I'm channeling below is one "bad to the bone" obit picture!! I mean, I just feel that in my bones....