Posted by: sara | August 5th, 2015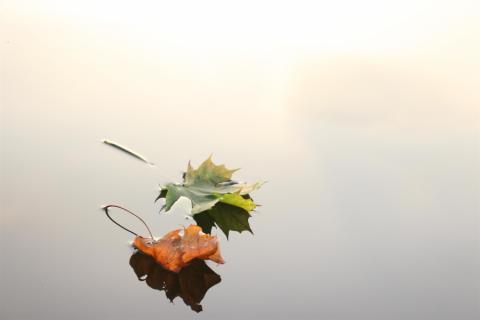 I recently presented a program at my local hospice about home funerals and green burial. The folks in attendance were extremely attentive and shared fascinating stories of their own.  As you can imagine, when you are working with death and dying on a daily basis, you quickly build a repertoire of stories.  No one decried anything I said; rather, they were eager to keep the conversation going about all aspects of both home funerals and green burial.  I was on a roll! We covered the difference between law and policy, health precautions to take when keeping a deceased love one at home, the environmental impact of our conventional funeral practices, legal matters, and paperwork.
Then a hand was raised.   "Are these forms posted on your blog so we can see them?"  Gulp.  I quickly added, "Not currently, but I will be sure to get this done so that they will be available and you will be able to see what needs to be completed."
Here are the forms you will need to complete:
Notification of Death
Certificate of Death
Burial Transit Permit (ONLY IF TAKING BODY ACROSS STATE LINES!)
In the state of NORTH CAROLINA (check your own state laws regarding this required paperwork!), you may act as your own funeral director.  If you do this, you must notify your county health department of the death within 24 hours and then arrange for a death certificate to be filed within five days with the registrar of the county where the death occurred.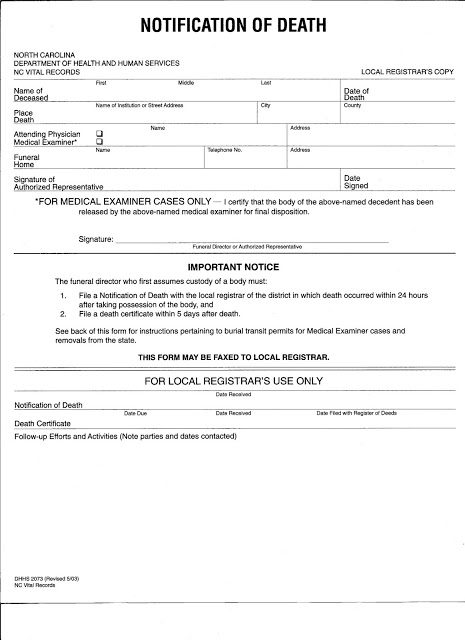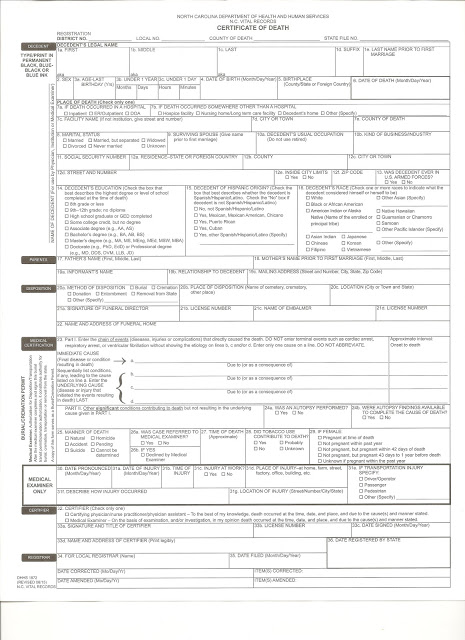 It would be a good idea to talk in advance with your county staff to find out what steps you will need to take, whom to contact, and how.  Tamma Hill is the Field Services Manager for North Carolina Vital Records and will be happy to reassure any county workers that might be hesitant to work with you.  You can reach her directly at 919-792-5832 or tamma.hill@dhhs.nc.gov.
Be sure to talk to the physician who is taking care of your loved one, and let them know of your plans to act as the funeral director and to claim custody of your loved one's remains until final disposition.  It helps if you have power of attorney for health decisions since that grants you clear authority to make decisions regarding the care of the remains.
You and your family or friends may legally transport the body.  If you remain within the state of North Carolina, you do not need a burial transit permit unless 1) the body is under the care of the county medical examiner (this could happen if death was suspicious or unexpected) or 2) you plan to carry the body across state lines.  You can easily fit a pine coffin or cardboard body container (or just have the body wrapped in a shroud or favorite family quilt!) in the bed of a pickup truck or in a minivan with the rear seats removed.  Here is the burial transit permit for North Carolina: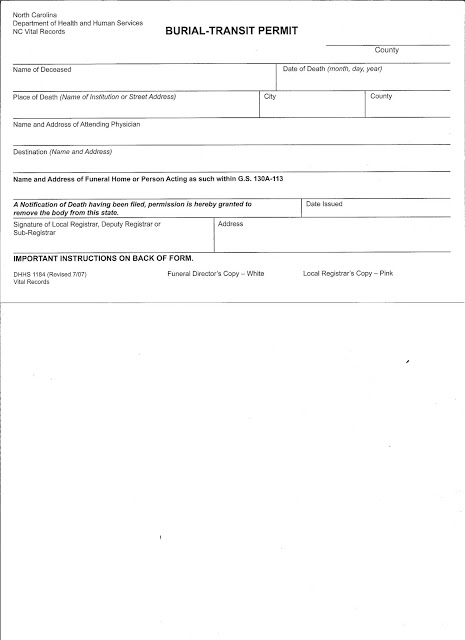 I love giving presentations of this sort and am looking forward to providing more education on this subject in the future!